I think I've made meatloaf half a dozen times in all my years as a grown-up that cooks. Four of those times have been in the past six months, because this recipe has turned a meat loaf hater into a meat loaf lover.
Half ground beef, half ground turkey, and a handful of spinach. Meatloaf healthified.
Seasoned croutons instead of bread, soaking in milk and spices.
Add an amazing tomato topping....
... and you've got the best meatloaf ever.
Italian Meatloaf Florentine
1 pound extra lean ground beef
1 pound ground turkey
2 cups Caesar seasoned croutons
1 cup milk
1 cup grated Parmesan
4 large eggs
large handful fresh baby spinach
2 tbsp dried parsley
1 tbsp minced garlic
1 tsp oregano
1 tsp basil
1 tsp thyme
1 tsp salt
1/2 tsp black pepper
1/4 tsp cayenne pepper
2 cans diced tomatoes, drained
1/4 cup brown sugar
1 tsp dry mustard
5 dashes Worcestershire sauce
pinch cayenne pepper
Preheat oven to 350°F.
Combine meat, eggs, Parmesan, and spinach in a large bowl and roughly mix together. In a separate bowl, soak croutons in milk until slightly softened. Mash together with spices and add to meat mixture. Mix together by hand until well combined.
In a separate bowl, mix together drained tomatoes, brown sugar, mustard, cayenne, and Worcestershire.
Form the meat mixture into a loaf and place on a drip pan (an oven pan with a slotted tray on top), then spoon the tomato mixture over the top.
Tent the pan with foil and bake for 40 minutes. Remove the foil and continue baking for 30-40 minutes more, until the internal temperature is 160° and the meatloaf is no longer pink in the middle. Cut into thick slices to serve 8-10.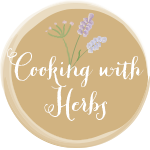 Thank you for featuring me!