I came across this bit of Canadian humour, and it made me think of all the things I love about this country, which invariably led me to thinking about food. Canadian food, like Poutine and all things maple syrup. And Nanaimo Bars.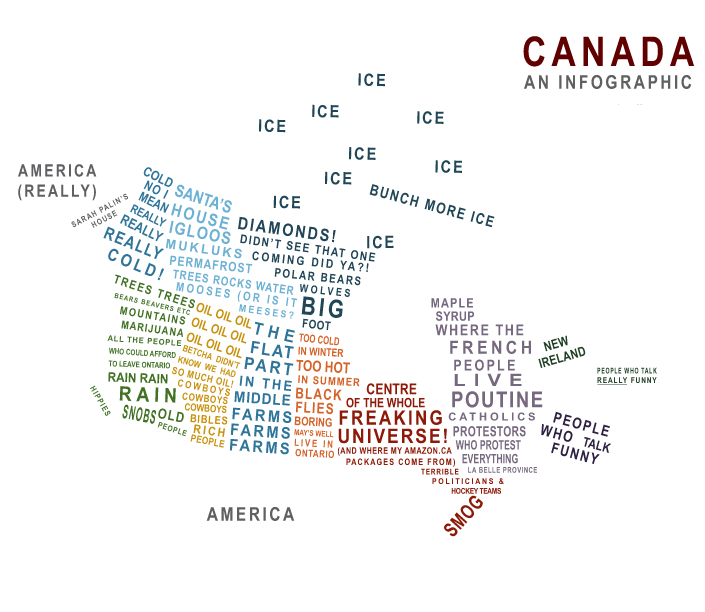 So. It would seem that I live in the centre of the whole freaking universe. Be that as it may, I have an abiding love for all things west coast, having spent 5 years living in Victoria, BC. Last year I shared a recipe for my
favourite cheesecake
, from my favourite Victoria restaurant. It is truly the best cheesecake I've ever eaten. Just like these Nanaimo Bars are among the best bars I've ever had. They've always been one of my favourite sweet treats, and coincidentally also come from Vancouver Island. Nanaimo, obviously.
If you've never had a Nanaimo Bar, you don't know what you're missing. A cocoa-coconut-crumb crust, a creamy custard centre, finished with a smooth semi-sweet chocolate layer.
These are no-bake bars, but they require some refrigeration time. The
exact origin
of Nanaimo Bars isn't known, although the earliest print copies of the recipe date back to the 1950's in various Nanaimo area publications.
Give these a try, I think you'll love them. And if you ever find yourself in Nanaimo, you can tour the Nanaimo Bar Trail.
1 ¼ cups graham wafer crumbs
½ cup finely chopped almonds
1 cup finely shredded coconut
Melt first 3 ingredients in top of double boiler. Slowly add egg and whisk constantly to cook and thicken. Remove from heat. Stir in graham crumbs, coconut, and nuts. Press firmly into an ungreased
8" x 8" pan.
2 tbsp plus 2 tsp cream or milk
2 tbsp vanilla custard powder (or vanilla pudding powder)
2 cups icing sugar
Cream together butter, cream, custard powder, and icing sugar until smooth and creamy. Spread over bottom layer and refrigerate until firm.
4 squares semi-sweet chocolate (1 ounce each)
Melt chocolate and butter over low heat in a double boiler. Cool slightly but allow to remain liquid. Pour over second layer and chill in refrigerator until set. Cut into squares.
Amazing bars, and an amazing city in a beautiful part of the country!
Linked up here:
Thank you for featuring me!